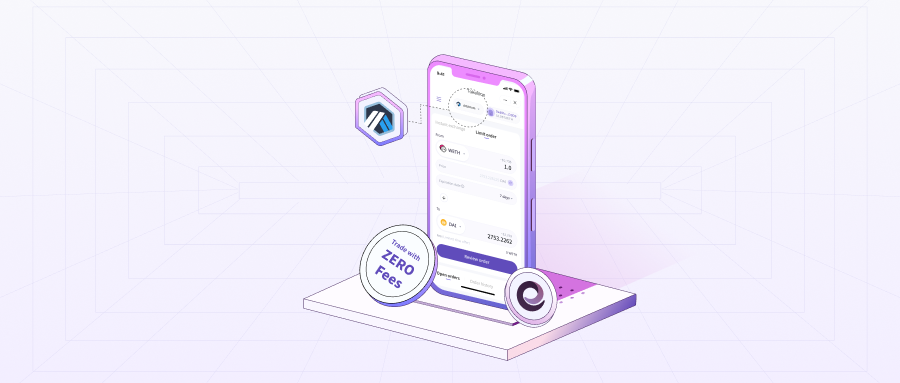 Dear user,
You can finally place limit orders on Tokenlon via the Arbitrum network! Here's why it is a big deal for you
Incur ZERO Trading + Gas Fees
High gas fees and transaction fees. These are a few issues many users face when making swaps on Layer 1. Users have to constantly monitor the gas fees before making a swap and risk experiencing slippage as well.
With the launch of Tokenlon limit order, we solve these issues for you.
Some key features to take note
For a limited period of time, you will not incur any gas fees or trade fees when placing and completing a limit order

Cancellation of limit orders will not incur any fees

Limit order trades are on the Arbitrum network
10,000 LON Giveaway
To celebrate this launch, we are giving away 10,000 LON to the first 200 users who executed a limit order (min $500)!
Each winner will receive 50 LON each, with winners selected on a first-come-first-served basis.
Time
2022.07.05 18:00 - 07.19 18:00 UTC+8
How to take part
Go to https://tokenlon.im/limit-order and connect your wallet (Switch to the Arbitrum network)
Execute a limit order trade on any listed token-> First 200 users to successfully trade at least $500 each will receive 50 LON each
Note: The trade must be successfully completed during the campaign period to be eligible. i.e. the limit order must be placed and filled within the campaign period. Limit orders placed after the campaign period will not be counted
Limit orders placed during the campaign period and only filled more than one week after the campaign period will not be eligible as well. Please set your order expiration time carefully
Tips to ensure your limit order gets filled
Place higher limit order trade amounts. For example, a $1,000 limit order will get filled faster than a $500 limit order, assuming the same target price
Set an expiration date of 7 days or less
Place multiple limit orders at different price points
Terms & Conditions
Each user needs to make at least ONE trade via limit order to be eligible for the reward
Users who answered questions correctly via the learn & earn campaign and made a trade are eligible to receive both imToken NFT and LON
Users will only receive rewards respective to their participation. For example, if you only answered the quiz questions, you will only receive the imToken NFTs. If you only completed a limit order trade, you will receive LON only
Users need to trade at least $500 trade amount in ONE trade to be eligible
Only limit order trades successfully completed during the campaign period are counted. Swaps are not counted
All rewards will be distributed via Arbitrum
If you have any questions about the event or encounter any problems when using Tokenlon limit order, please contact us via Discord.
Tokenlon team,
2022.07.05