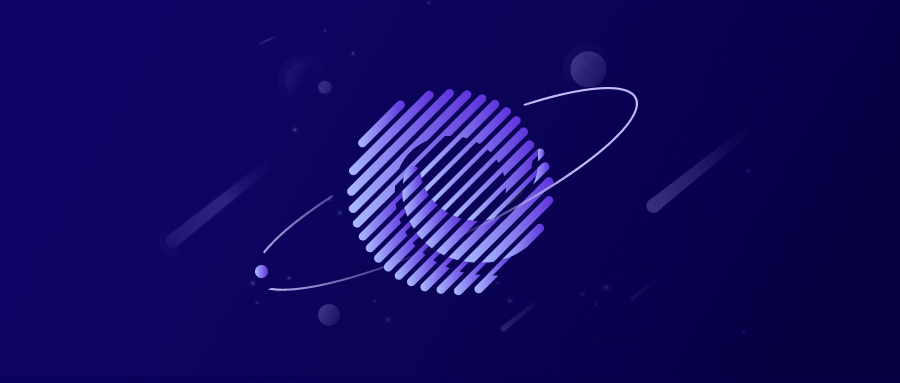 Today Tokenlon's cumulative transaction volume reached a total of 1 billion US dollars.
We want to take this opportunity and take Tokenlon to the next level and focus on our community. Therefore, we are excited to announce the LON Incentive Plan (short: LIP). LIP will allocate and distribute a total of 200 million LON tokens, 65% to the Tokenlon community.
Join via tokenlon.im/lon or in the imToken app.
LIP's first stage, starting on September 26 at 00:00am (UTC) and lasting for five weeks, will allocate 5,000,000 LON (2.5% of LON) via trade mining and the referral program.
Tokenlon
In 2017, we started Tokenlon as a DEX focusing on convenient trading while keeping the benefits of permissionless atomic swaps, incubated by the imToken wallet.
After a year of continuous iterations, we released Tokenlon at the end of July 2019. Now, Tokenlon has reached the magic number of 1 billion US$ in trading volume with a trade success rate of 99.8%.
Read our latest blog to learn more about how Tokenlon works and its benefits.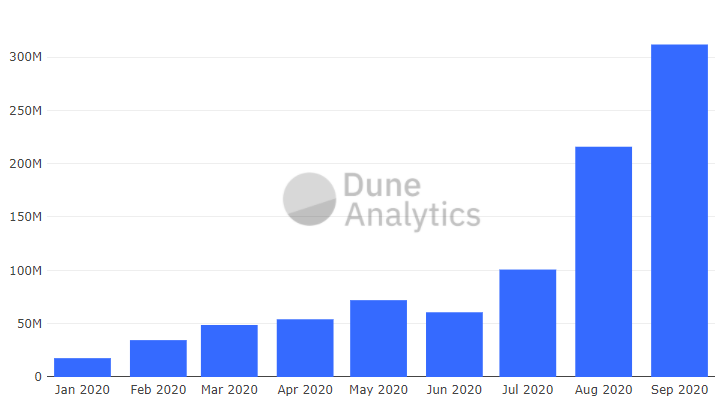 According to Token Terminal data, Tokenlon currently has an annualized revenue of 13 million U.S. dollars (as of September 24), ranking sixth among many DeFi projects.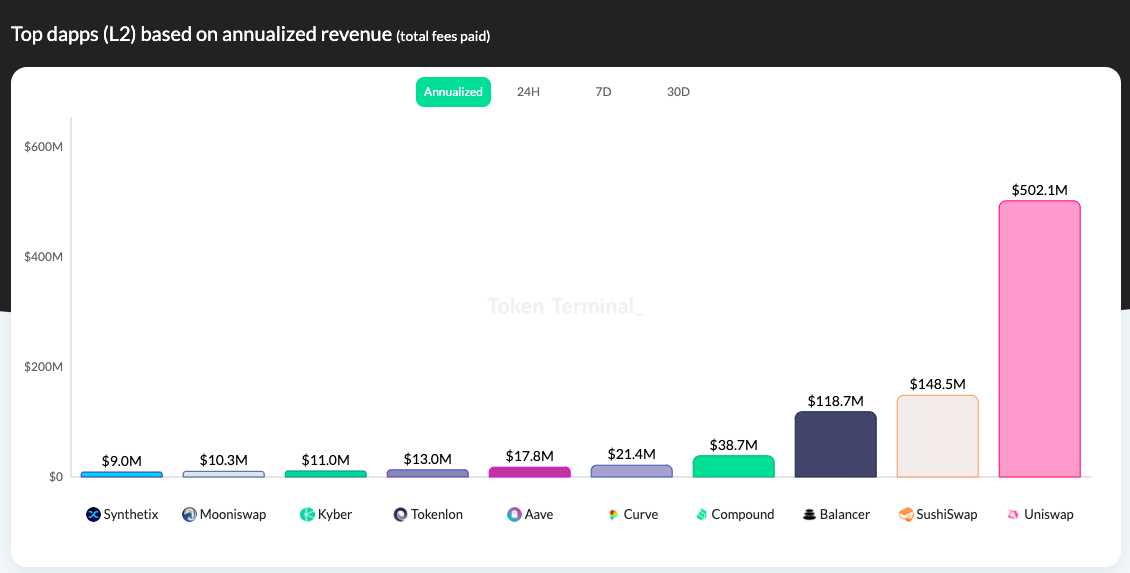 In this process, the core team, the 0x team, market makers, other partners as well as the support of early users were indispensable. To achieve future milestones and further develop Tokenlon we are seeking the support of more contributors to participate in the joint construction of something big.
Tokenlon is committed to becoming the infrastructure of the global financial market and connecting the blockchain ecosystem in an open and inclusive manner. We believe that the development of a decentralized community is the only way to achieve this.
We plan for LON to play a vital role in this process.
LON: Tokenlon Network Token
LON is the Tokenlon Network Token issued by Tokenlon, with a total issuance of 200 million. It is used to build a community and incentivize a growth of the ecosystem. 65% of the 200 million LON will be allocated to the community through the Tokenlon LON Incentive Plan (short: LIP), and the remaining 35% will be allocated to the core team and supporters.
Join via tokenlon.im/lon or in the imToken app.
LON features
Trading discount: Users with LON assigned will receive fee discounts starting from week 2.
Governance: LON will give the community the right to participate in Tokenlon governance, the details of which will be announced at a later point.
LON distribution
In order to encourage community participation, the Tokenlon Incentive Plan LIP distributes LON in multiple stages.
Stage one assigns LON via two mechanisms: Trade mining and referral program. It lasts for five weeks and assigns 5,000,000 LON (accounting for 2.5% of the total LON amount).
Users who participate in the first stage of mining can invite any other user to increase their own mining rewards as well as the invited person's rewards via referral code.
Details
Starting on 2020.9.26 00:00 AM (UTC), LON will be assigned to users trading on Tokenlon and paying a trading fee and to users who recommend friends who trade.
The reward is calculated according to certain variables that depend on the participation in the referral program resulting in a certain 'mining power'.
At the end of each week 1,000,000 LON is assigned to eligible users according to the proportion of their mining power to all mining power obtained in this week, and the whole calculation starts again for the next week.
You can query your own mining power and the number of LON assigned every week on the LON Dashboard panel.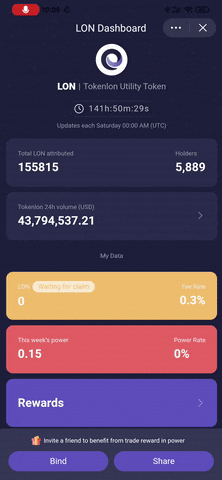 The actual LON token will be officially released later this year. While LON is already being assigned during the initial stages, the actual LON token can be collected after LON's release. At all times can the specific LON assignment be checked on the dashboard (see power calculation below).
Mining power distribution
Each trader receives a power amount of the trading fee spent (in USD) times 0.6.
Each trader who trades after having received an invite receives a power amount of the trading fee(in USD)*0.7, while the inviting user (or: referer) receives a power amount of the trading fee(in USD)*0.15.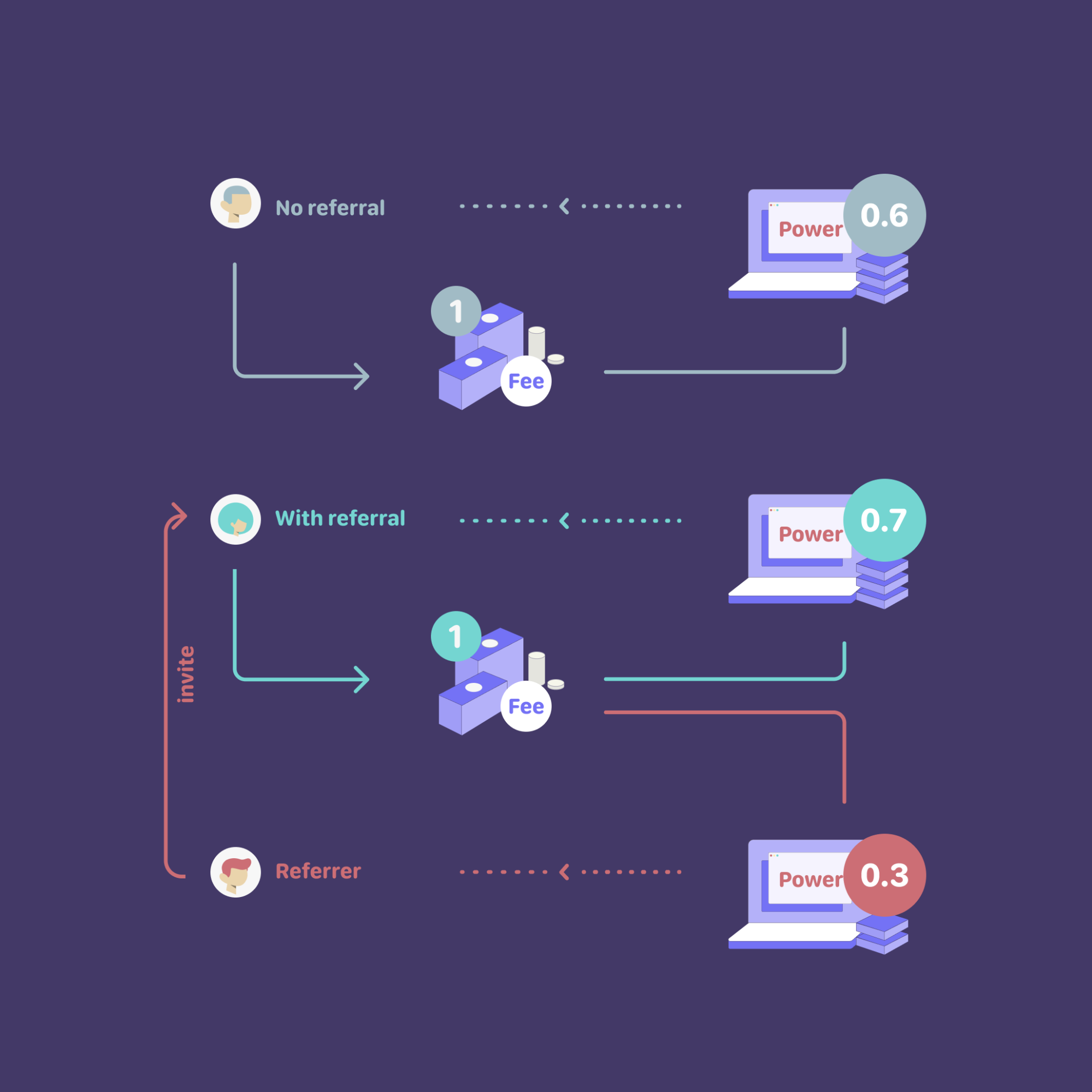 Example 1
A has not received any referral code

Every $1 trading fee will generate 0.6

power

for the trader
Example 2
A accepted the referral code of B. In this case,

Every $1 trading fee will generate 0.7

power

for the trader

At the same time, the trade generates 0.3

power

times the fee for B as well
Example 3
Each week all generated

power

from all traders and referrers is added

A and B both generate

power

as seen above

Each participant - including A and B - receives a share of the 1,000,000 LON issued in this week according to their share of the

power

of this week
Referral codes
Everybody can generate and share a referral code. Holders of the TokenFans Token (TFT) can receive the premium referral code.
For an inviting person to start receiving rewards, the referral code needs to be activated. The ordinary invitation code needs ≥ 3 people, and the premium invitation code ≥ 1 person to have traded for it to be activated.
After the invitation code is activated the inviting person (i.e. referer) will receive an additional reward.
The invited person (i.e. referee) who trades after having received an invitation code will receive additional mining reward as well.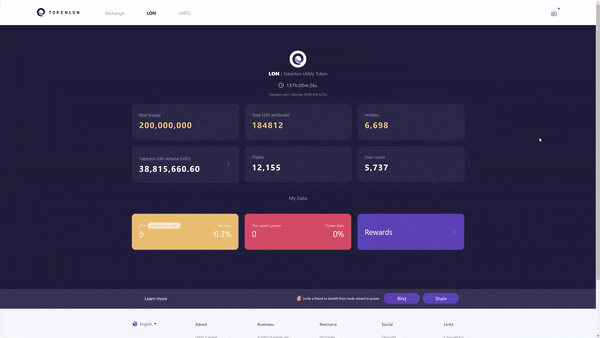 The future
Going forward, we are focusing on building out the community. Tokenlon, as an exchange, aims to provide a convenient, yet secure trading interface. Together, we will build out the infrastructure for the open financial services.
We will announce further stages of the Tokenlon LON Incentive Plan soon. Follow our community channels below to stay hear about latest developments of LON:
Important Risk Hint
LON Token Contract has not yet been deployed.

LON does neither fundraising nor sell a token. Everyone can participate in mining to get LON

assigned

.
LON has no investment value and is a Tokenlon token. User holding LON enjoy a discount on trading fees.