Week in review
This week's market fluctuations remained significant. According to Coingecko, BTC rose to $29,809.78 this week, then quickly dropped to a low of $27,740.33, and has now rebounded above $29,000, currently trading at $29,229.95, with a 7-day decline of 0.9%.
ETH reached a high of $1,927.41 this week and a low of $1,811.06, currently priced at $1,901.82, with overall fluctuations in line with the broader market and a 7-day decline of 0.5%. Notably, the Brc-20 ecosystem's meme token $PEPE saw a 600% increase in 7 days, with its market cap ranking rising to 58th place.
DeFi Market
Note: Data as of 2023.5.5 09:30 +UTC
Total TVL: $49.6b, of which Ethereum chain TVL is $2.862b, down 1.25% from last week.
For Ethereum Layer 2, the total locked value is $9.28 billion, a 7-day drop of 2.92%.
The Arbitrum One network's total locked value is $6.16 billion, a 7-day drop of 3.21%, accounting for 66.42%
The Optimism network's total locked value is $1.86 billion, a 7-day drop of 3.35%, accounting for 20.09%.
Tokenlon & LON Weekly Statistics
Tokenlon
Tokenlon's trading volume this week was $78,092,182, a 37.42% decrease from last week, with 1,090 transaction addresses and 2,833 transactions. The revenue was $151,963 and; the net profit from fees was $123,139,, with the current fee balance being $2,269,108.
LON
The LON staking contract has a staked amount of 59,396,784 LON, with an annualized staking yield (monthly) of 30.88%. The LON liquidity pool (Uniswap+Sushiswap) has a locked LON amount of 6,994,092. This week, Tokenlon bought back 83,281 LON, accumulating a total of 16,100,801.32 LON bought back.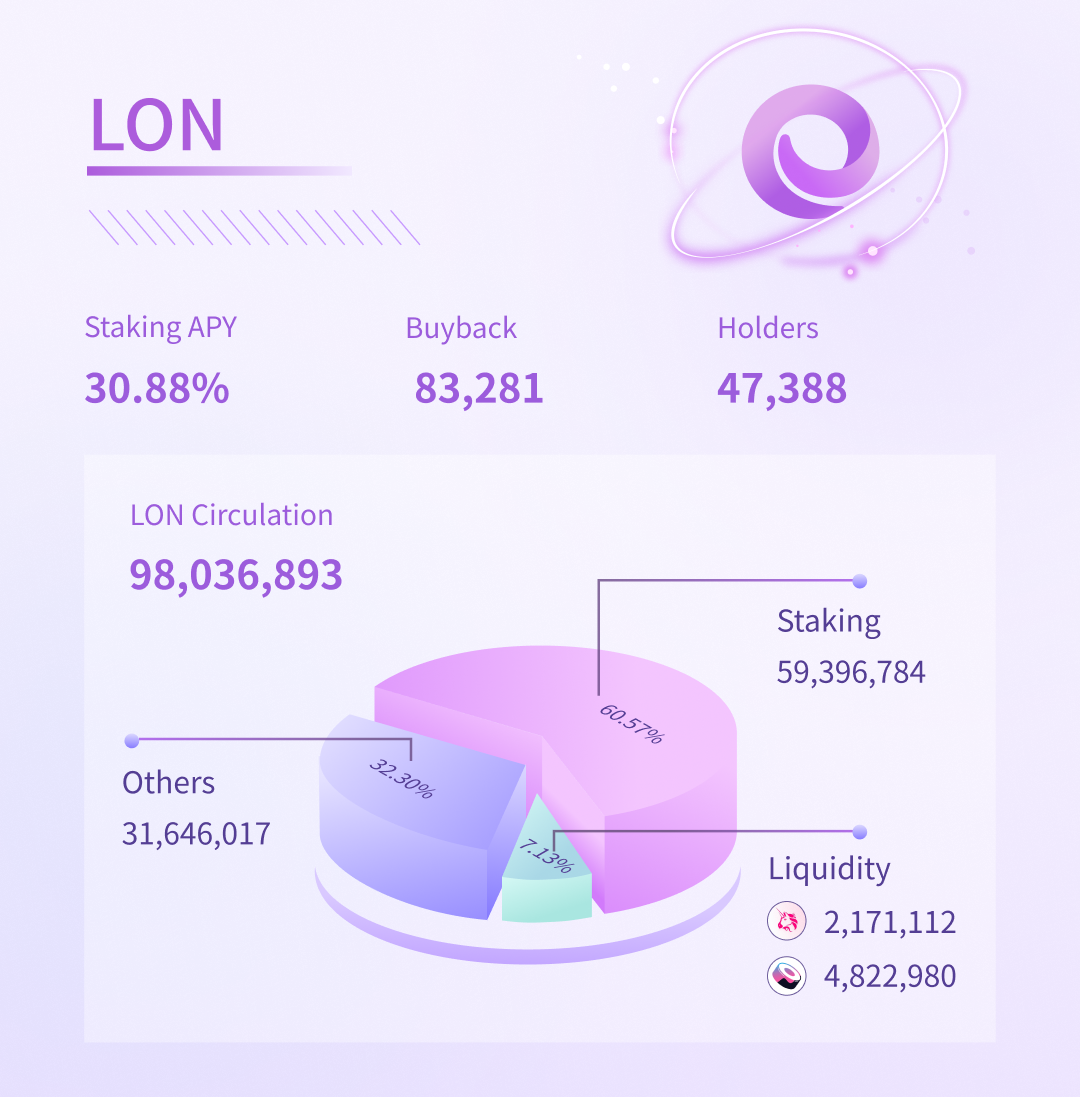 Tokenlon Development Highlights
Preparing the TIP draft for ARB community distribution
Confirming the OKR plan for Tokenlon's business growth
Discussing potential collaboration methods with the LSD project team
Discussion on the new fee design for Tokenlon protocol
Important Risk Warning
LON token contract address:


0x0000000000095413afC295d19EDeb1Ad7B71c952

LON is Tokenlon's native token, where holders will enjoy fee discounts and voting rights
Beware of fake Tokenlon imitations, the official website is:

https://tokenlon.im

Please do not download any app or DApp from non-official Telegram, Whatsapp, Facebook, or Wechat
Tokenlon,
2023.05.05
Contact us
Notes
Digital Assets are highly volatile and unpredictable. Please do your research before trading.