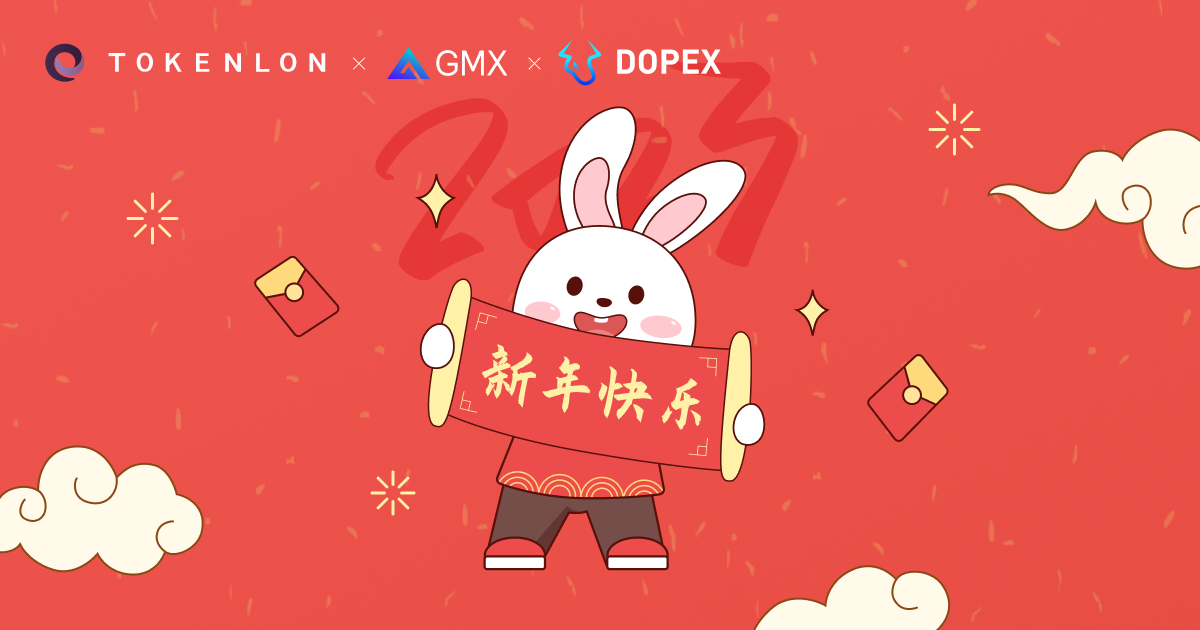 Dear user,
We are excited to celebrate Chinese New Year with you this year! For our international users, Chinese New Year is a time for families to come together, enjoy delicious food, and exchange gifts.
Together with our partners at GMX and Dopex, we are welcoming the year of the Rabbit with a Galaxe campaign for you! Read on for the full details
Campaign Period
18-25 Jan 2022
Prizes
Tokenlon CNY 2023 NFT
Dopex CNY 2023 NFT
GMX CNY 2023 NFT
3 x 200 USDT Prize Pools Distributed To 30 Winners
How to participate
Complete all the tasks

Receive one NFT unique to the project tasks you completed E.g. If you only complete the tasks set by GMX, you will receive the GMX CNY NFT. Complete all tasks to receive all 3 project NFTs.

Once the campaign ends, go to

Tokenlon Discord

to verify your NFT (s) ownership

Enter the giveaway for each prize pool after verifying your NFT

Each verified NFT makes you eligible for one 200 USDT prize pool

Stand a chance to win from 3 different prize pools

E.g. If you verified ownership of all 3 NFTs, you are eligible to win from 3 different prize pools

1 prize pool is worth 200 USDT distributed to 10 winners (20 USDT/ Winner)

Winners are randomly selected from the list of eligible participants.
Tasks
Get 1 Tokenlon CNY 2023 NFT:
Follow Tokenlon on Twitter

Make a limit order trade on Tokenlon
Get 1 Dopex CNY 2023 NFT:
Follow Dopex on Twitter (CN + EN account)

Join Dopex discord

Deposit 10 USDC in the

ETH Atlantic Straddle vault
Get 1 GMX CNY 2023 NFT:
Follow GMX on Twitter

Hold either GMX or GLP
Get started now!
Project Galxe campaign landing page
Terms and Conditions
Discord giveaways will start AFTER the campaign period ends. Please stay tuned for the announcement.

The NFTs are deemed as collectables, and will have a one-time utility for verification purposes within the campaign.

Further utility of the NFTs has not been promised or disclosed.

If you have any questions, don't hesitate to ask them in

our Discord

!

Tokenlon, GMX, and Dopex reserve the right to the final decision in the case of any disputes.
Tokenlon team,
2023.01.19